Another Monster.com article by Bortz delves further into specific soft skills and ways you can work to develop them. There's no comprehensive list of soft skills and each of them have a variety of personal attributes that contribute to your mastery of them. But some of the most commonly mentioned soft skills include:
Verbal Communication – Being able to clearly and concisely communicate with other people in your company is the only way to minimize mistakes and inefficiencies that come from miscommunication. It defines how the people around you perceive you and therefore your relationship with them. Bortz recommends joining Toastmasters, a national group that teaches public speaking.
Teamwork – It's likely that no matter what profession you're in, you will need to collaborate with other people to solve problems and accomplish projects.
Time Management – Let's face it. Some of us are procrastinators. Everyone puts off unpleasant or difficult tasks at least some of the time. If you need help managing your time, there are plenty of simple steps you can practice – and hopefully internalize – to become more efficient.
U.S. News and World Reports contributor Ritika Trikha recommended trying one of four techniques, such as: the Pomodoro Technique, which breaks your workday into 25-minute segments followed by a break or the 18-Minute Technique, which involved involves spending five minutes each morning thinking about a listing your tasks for the day, consciously refocusing for one minute per hour of work and then spending five minutes in the evening reviewing your day. These techniques and more are detailed in Trikha's article.
Organization – Even if you're technically proficient in your field, you'll face challenges if you can't organize your time, space and workload. A major part of being organized is staying on top of your goals, duties and expected deliverables. Experiment with different organizational systems – from those as simple as a to-do list on a notepad to one of the many tools available online – to find what works best for you and your personality type.
Writing – In your work, you'll need to create communications, including emails, presentation slides and reports, and these have to be easily understood by others. While practice is important for improving this soft skill, it can also be helpful to receive outside assistance.
Critical Thinking – To practice critical-thinking skills, an Entrepreneur article laid out a three-step process to approach any problem or project. First, clearly Identify your purpose and let that drive each decision you make going forward. Second, Identify your biases. Try to consider possible solutions from your supervisor's perspective, or your customer's. Finally, try to think about the implication of your options. What happens if your decision fails? Is that failure an acceptable risk.
Leadership – Monster.com contributor Cheri Swales writers that being enthusiastic, optimistic, flexible to others' needs and being cooperative can help others begin to view you as a leader. Forbes recommends several concrete steps, including exploring what kind of leader you are. You can take a leadership personality test to get insights on your leadership style and how you can adapt that to your company's projects. Improving your communication skills, taking leadership roles outside of work through charity work and studying how to intentionally build effective teams are other steps suggested in the article.
Cindy Sylvester is a business development partner on Southern New Hampshire University's career services team. She develops relationships with employers and connects them with students and alumni. She said the employers she talks to most often say they want prospective employees who are enthusiastic and personable, and have strong critical thinking, work ethic and leadership skills.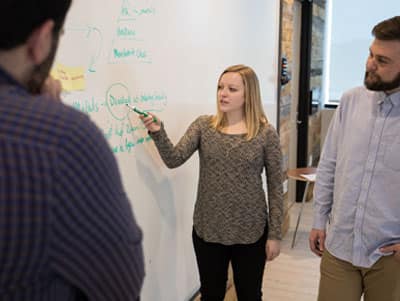 Sylvester said one way to both develop many soft skills and be able to demonstrate them to potential employers to practice them in the real world.
"We tell our students to get outside of their comfort zone, to volunteer, to start getting out there," she said. "We heavily emphasize the need to get out there and do those kinds of activities because it adds to their resume and gives (employers) that sense of more interaction that may be able to help either their leadership or critical-thinking skills."
Many colleges and universities offer general education degree programs that focus on strengthening skills like critical thinking and communication while through courses like English composition, quantitative reasoning, history and natural science. While these courses lead to a bachelor's degree in general studies, they can also help you develop a broad base of soft skills and may offer concentrations in more specific areas, including business, psychology, creative writing and more. You'll notice a general education component to every degree program, required courses that provide a well-rounded overall experience and allow graduates to develop soft skills as well as hone in on courses pertinent to a specific area of focus.
Source: Joe Cote