Think you're a Facebook pro? Think again. Sure, Facey-B might have dominated the past decade of your online activity, but as recent reports have shown, many are in the dark about what FB actually does behind the scenes – and there's a good chance you're either not protecting yourself or getting the most out the world's biggest social network.
So set your ego aside and listen up, it's lesson time. Facebook's no longer just that friendly little blue website you post drunken photos to. Squillions of development hours have been put into this thing, filling it with all manner of features you might not be aware of – including this lot.
1. HOW TO UNFRIEND SOMEONE WITHOUT LOSING ACCESS TO THEIR ACCOUNT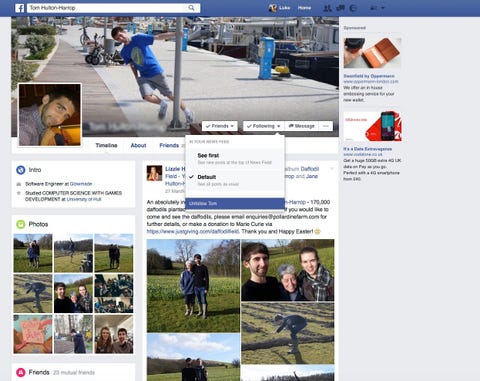 When unfriending someone on Facebook classes as workplace bullying, we're all in trouble. You can cut people out without all the drama though. Simply unfollow them instead of unfriending them. This completely stops all of their nonsense from appearing on your wall, while still offering you full Facebook stalking rights to their accounts when the mood takes.
To do this, hit the 'Following' button on the pages of your Facebook foes. You'll see options to unfollow them as well as 'See First'. But that's for people who you want right at the top of your newsfeed, not those who make you want to put all your Facebook-connected devices in a tub of acid. Tap the unfollow option, stat.
2. HOW TO GET LOGIN ALERTS IF YOU'RE WORRIED ABOUT HACKERS
Login Alerts will drop you a notification whenever your Facebook account is accessed from a new device or browser. By going Settings >> Security, you can choose to receive an email, notification or both upon one of these new login attempts. Neat.
3. HOW TO SEE MORE STUFF FROM YOUR FAVOURITE PEOPLE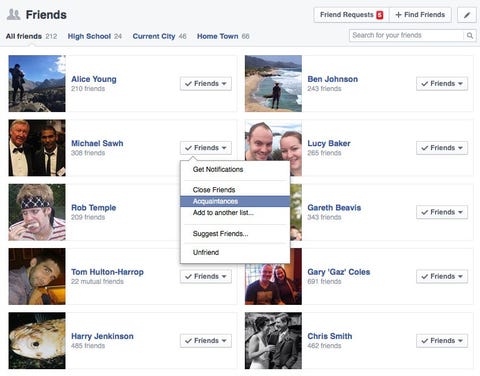 There's a point that comes in all of our lives: the day you realise your Facebook feed is full of inspirational quotes posted by people you wouldn't trust for directions to the nearest newsagent's. That and sponsored links. When that day arrives, it's time for a refresh.
One way to give Facebook's feed algorithms a kick up the arse is to start labelling your Facebook contacts as 'close friends' and 'acquaintances'. All the updates from your close friends will appear on your news feed, diluting the drivel your 'acquaintances' post. How? Well, in the 'Friends' tab you'll see a drop-down box next to each of your mates' entries. In this you can label them with these two all-important tags. Doing so will up the quality of your news feed dramatically.
4. HOW TO FIND THE HIDDEN BASKETBALL GAME IN MESSENGER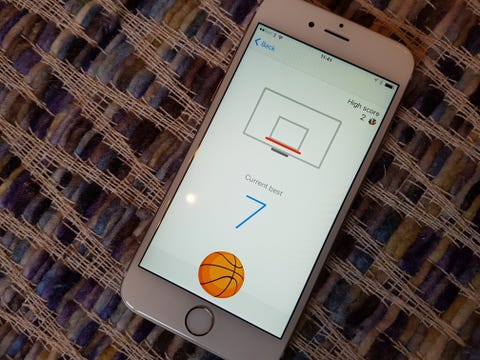 If you haven't heard about this already, what rock have you been living under? Seriously, it's Facebook's worst kept secret and it's an addictive time-sap of a game. Scurried away within Facebook Messenger, the basketball-based plaything lets you challenge your chums to shoot some hoops directly within the chat window.
It's not something you're likely to stumble across either. To play, you need to send your friend a basketball emoji then click on the sports-themed pictogram. This will launch the game over your chat, with both players' high scores being logged in the feed.
5. HOW TO LINK FACEBOOK TO YOUR TWITTER AND INSTAGRAM ACCOUNTS
Every social media pro seems to live on about a half-dozen social networks at once, hoovering up followers and friends like Morgan Freeman sauntering down a high street, flinging fivers with every step. You don't need to spend all day hooked to your computer to get this effect, though.
The trick is to link your other social networks to Facebook so that they automatically post to it, saving you the effort. This doesn't happen over at Facebook itself, but directly at places like Twitter and Instagram, the two most likely candidates for a Facebook hook-up.
Source: Luke Johnson